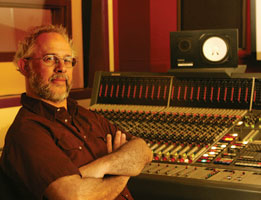 By Steve Oppenheimer
(October 2005)
The world of electronic music has been blessed with many brilliant pioneers. But of them all, one man became the veritable symbol of electronic music: Dr. Robert Moog, who passed away shortly before this issue went to press.
We EM editors have long had a special place in our hearts for Bob Moog. Aside from his many accomplishments, he was a fine and generous man who had a sharp sense of humor and a desire to help others succeed. Considering how famous he was, he was remarkably humble and unpretentious. He worked in a modest workshop, drove a beat-up old Toyota that his daughter had festooned with primitive psychedelic murals, and dressed like an engineer, without much regard for style. I often addressed him as "Uncle Bob," and many of us in the music industry thought of him that way. You'd be thrilled if your children grew up to be like Bob Moog.
And of course, he designed great products, especially synthesizers. Like many musicians and music lovers, I first became aware of Moog synthesizers thanks to Wendy Carlos's Switched-on Bach and, later, Keith Emerson's spectacular performances. But it was Jan Hammer's Minimoog leads with the Mahavishnu Orchestra that drove home the point, so to speak. Hammer is a superb musician, of course, but that sound — it was incredible!
In 1971, Moog sold Moog Music but kept working for the company until 1977. The next year, Bob's love of the Blue Ridge Mountains brought him to Asheville, North Carolina, where he founded a new company, Big Briar. A few years later, he began teaching electronic music at UNC-Asheville.
Initially, Bob ran Big Briar out of his home and focused on repairs, consulting, and custom work. Eventually, though, he stopped teaching and began hiring employees. He also served as VP of new-product research at Kurzweil from 1984 through 1989. Already a public figure, Bob became an informal spokesperson for music-education technology, giving interviews about the future of music education to a variety of print and broadcast journalists.
When Bob resumed manufacturing, he returned to his roots: Theremins. In 1995, he agreed to publish the plans for his new instrument in EM's "DIY: Build the EM Theremin" (see the February 1996 issue). I had the honor of working with Bob to develop the article; it took us almost a year, but when it was done, we had a classic story. (The Theremin project and Moog'sEM obituary for his friend Professor Theremin, are available on our Web site at www.emusician.com.)
Once back in the manufacturing business, Bob produced a variety of excellent products, winning three EM Editors' Choice Awards. And after considerable hassle, he was able to regain the rights to Moog Music in 2002, and that's the company name today.
Yes, our industry has indeed been blessed with numerous brilliant trailblazers, all of whom deserve our deep appreciation. Bob Moog was among the greatest of them all, and his legacy will shine on as long as electronic musicians remember their roots.