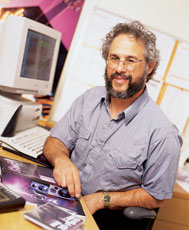 By Steve Oppenheimer
(June 2001)
In the past six months, we have covered a lot of new ground. In addition to our usual in-depth stories about music technology, we have expanded our coverage of music production for the Web and explored the world of 5.1-surround mixing. We've launched Remix and Onstage as monthly magazines, and our Web site has undergone a radical redesign. This midyear editorial column seems like a good place to pause and reflect.
For the most part, I think we've done well. Our coverage of music production for the Web has been well received, and we plan to do a lot more. Surround mixing is still somewhat bleeding edge for personal-studio owners, but musicians need to stay informed about this important development, so we're going to keep forging ahead.
I am delighted with Remix, which has delivered its promise of providing a quality technical magazine for underground music production and DJ performance. Remix editor Chris Gill has done a superb job of keeping his finger on the pulse of the electronic-music world.
I'm also proud of the work Onstage editors Mike Levine, Barry Cleveland, and Chris Kelsey have done. They've delivered quality interviews with major artists, emphasizing ideas performing musicians can use. In addition, the editors provide accurate hands-on reviews and practical technical articles for musicians who play live.
The Web site redesign has been another matter. My sincere thanks to those who have written to us offering suggestions. Your input is helpful and is being taken seriously. We're still striving to make www.emusician.com what we want it to be, including addressing issues such as the article archives and audio and video example files. Hopefully, by the time you read this, we'll have started making the necessary changes.
Speaking of Web sites, our parent company, Intertec, has added a new feature to all of its sites. Starting with this issue, you will see as many as three items in "What's New" marked with a new icon that says "Demo Room." That indicates that a manufacturer-supplied demo video for the product is available in the new Demo Room section of www.emusician.com. The number of Demo Room products will vary from issue to issue, but we hope to offer at least one each month. Manufacturers can also purchase space in the Demo Room to show videos. Those paid videos are essentially advertisements and are not reviewed by the editors; the editors only select the Demo Room videos mentioned in "What's New."
We've also added something new to the print magazine. Starting with this issue, any product reviewed in "Quick Picks" that earns a perfect score of 5 in the Overall rating will be awarded our new Hot Picks icon, which will be placed at the end of the review. We are chary about awarding perfect scores, so when you see a Hot Picks icon, you know we have found the product to be truly exceptional.
I have one other change to announce. Unfortunately, long-time technical editor (and my close friend) Scott Wilkinson is moving on to greener pastures. Scott has contributed immeasurably to EM's success, and we'll miss him.