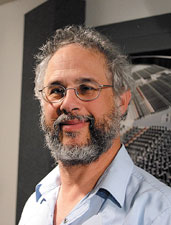 By Steve Oppenheimer
(January 2003)
I'm always a bit nervous about announcing new projects and initiatives that are supposed to happen "by the time you read this," because I write this column well in advance of publication, leaving me at the mercy of Murphy's Law. However, at the risk of wearing an egg facial, I'm asking you to please visit our Web site at www.emusician.com sometime after December 16. By the time you read this—there are those famous last words—our Web site should be completely redesigned.
While the improved emusician site will offer all of the same features as the old site and will introduce several new ones, this redesign is really about accessibility. For example, one major change will be the ability to find many of our articles by subject: you can click on any of 14 product types (Audio Editing Software, Control Surfaces, DAWs/Recorders, DSP Software, and so on) and find every story we've posted about that type of product.
Our new Tutorials section will present an assortment of "Master Class" features, "Square One" columns, and other how-to stories. Every month, the Spotlight section will highlight particularly interesting interviews, reviews, and applications. The News section will present product news from the EMusician Xtra newsletter, much of it information that we have never made available online before.
You've been able to subscribe online for some time, but we now have an enhanced subscriber-services page where you can get help with subscription problems. If you want to write for EM, check out our online author guidelines and author style guide. We're also providing an information page for our advertisers (including how to buy reprints and e-prints of our articles), an online Classifieds section, and lots of links to relevant sites. Of course, we'll add more as we go along.
We've retained several popular features of the old site, in addition to our article archives. You'll still find online audio, MIDI, and other example files for EM articles in the Web Clips section (formerly EMLinks), and the online portion of our Cool Tip of the Month is alive and well. Our Sell Your Music section is still available, as are NetStudio, the Rocket-powered online studio space, and our online reader service, called Free Product Information.
We've made several cosmetic changes to clean up the site. For instance, our old home page, originally dominated by articles from the current issue, is much less cluttered. It now shows a few key articles from the current issue, with the entire current issue presented on a separate page.
There's even more. But I'd rather you spent your time browsing the site than reading about it.
Subscribers get a bonus from us this month: our Computer Music Product Guide. This handy new buyer's guide is part of your subscription, but it is also available wherever EM is sold. The new guide is a companion to our Personal Studio Buyer's Guide, which focuses almost entirely on hardware. CMPG fills that gap by focusing on computer-music products, especially software.