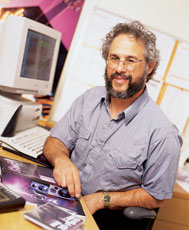 By Steve Oppenheimer
(January 1998)
A long time ago, in a galaxy far, far away….
It is a period of civil war. Rebel musicians, striking from a hidden base, have won their first victory against the big-studio empire.
This isn't the latest episode of Star Wars, of course; it is the story of a rebellion against the belief that only the few who can afford to record in commercial studios can produce professional-quality music. The rebel mission was to forge a link between electronic musicians, the vanguard of the personal-recording movement. For, by recording in our own studios, we guaranteed our artistic freedom.
In 1975, a small group of rebels founded Polyphony, a magazine whose tagline read "Electronic Music & Home Recording" (later modified to "Electronics-Music-Home Recording"). Led by Editor Marvin Jones and abetted by such luminaries as Craig Anderton and John Simonton, the rebels published interviews and articles about synthesis, home recording, computers, and electronics. Pro audio products were expensive, so Polyphony explained how to build your own gear and how to make the most of what you had. When new technologies emerged, the magazine explained their theory and applications. This was by no means the only cell in the rebellion, of course, but it is the one that led directly to the magazine you hold in your hands.
Life is growth. Jones moved on, and Anderton became Polyphony's editor. The magazine was redesigned, and in 1985 it was renamed Electronic Musician. Two issues of EM – June and September – were published that year. Then EM was sold to the publishers of Mix magazine, and beginning with the January 1986 issue, Electronic Musician became Mix's monthly sister publication. This was the beginning of EM's "modern" era. EM underwent a significant shift when Anderton departed in mid-1989 and Bob O'Donnell became the magazine's second editor. But through it all, our focus on electronic music and personal recording never wavered.
By the time O'Donnell departed in late 1993 and Mike Molenda took the reins as the magazine's third editor, MDMs and affordable mixers had appeared. At last, it was practical to build a pro-quality personal studio. The rebels had gained a major victory; in fact, the rebellion had become a full-scale revolution, and the lords of the big-studio empire were forced to give ground. In response, we increased our recording coverage and made other modifications. And the staff continued to evolve: late last year, Molenda moved on, and I became the magazine's fourth editor.
This issue of EM marks the beginning of Episode IV. We have already redesigned our reviews section (three cheers for our artists!) and added a "Contact Sheet" page where you can find contact information for the companies whose products and services we discuss. And because high-tech tools are the wave of the future – a new hope for the personal studio – this issue includes our first sound-card faceoff. We will make more changes in the next few issues. But our mission remains the same: to forge links between musicians through education and to provide a voice for the personal-studio revolution. May the Force be with you!