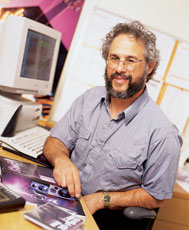 By Steve Oppenheimer
(January 2001)
Happy birthday to us! Electronic Musician turns 15 years old this month—at least, officially. But our story actually started in 1975, with the founding of Polyphony, PAiA Electronics' sporadically published tabloid about electronic music and home recording.
Polyphony was redesigned and renamed Electronic Musician in 1985, and the two "pilot" issues that constitute vol. 1 were published in June and September of that same year. But PAiA was a manufacturer of music-electronics kits for build-it-yourself hobbyists, not a publishing company, so we were sold to Mix Publications, the publisher of Mix magazine. Mix Publications launched us as a monthly magazine starting with the January 1986 issue, which was designated vol. 2, no. 1. That's why this 15th-anniversary issue is vol. 17, not vol. 16. (For more on our history, see the January 1998 "Front Page.")
Now we are 15—where do we go from here? Are we going to redesign everything? Well, no, because we think our current design is strong and vital. But we are making a few tweaks.
Starting this month, the "Contact Sheet" page is gone. Instead, we are providing the relevant contact information within each article, either in the main text or in special sidebars. In reviews, the sidebars containing the prices, pros and cons, and meters have also been redesigned. The "Web Page" section has been given a facelift as well, and we will take advantage of the new design to expand "Web Page" in the near future.
In celebration of our 15th anniversary, we are creating a new page called "Fifteen Years Ago in EM" (p. 17). Each month for the rest of 2001, I will use that space to briefly reminisce about topics and products we discussed 15 years before, starting with this month's retrospective of the January 1986 issue.
Perhaps the biggest news is that our Remix and Onstage supplements have been officially launched as monthly magazines. Chris Gill continues as the editor of Remix, bringing you the best technical information available for the world of' "underground" dance music/electronica production and performance. Mike Levine carries on as the editor of Onstage, which has rapidly grown into a vital resource for club and concert musicians. I'll still be editor in chief of Onstage and Remix, in addition to my more hands-on duties here.
That's not all—not even close. Starting in February, you will see a completely new Web site at the familiar www.emusician.com. Our new site will be part of a larger complex of related sites called www.digitalmediaclick.com. We'll publish more information about this periodically, but the bottom line is that we'll soon have a better Web site with many further improvements to come.
Finally, with the monthly publication of Onstage, Barry Cleveland and Mike Levine have moved over to the new magazine full time. To complete the EM staff, we have hired a new associate editor, someone whose work you know well. Geary Yelton has been writing for us for more than 15 years, all the way back to vol. 1, no. 1. For more details about Geary, check out "Meet the Editors" (p 10). Adding Geary to the team is a big score for us; he was tops on my list of candidates, and we are very lucky to have him.