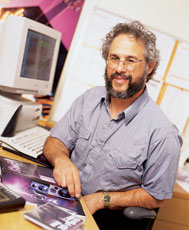 By Steve Oppenheimer
(January 2000)
Every October, my anxiety level increases dramatically. This is not a reaction to the approach of the holiday season, the AES convention, the annoying political verbiage attending the fall elections, or the beginning of the rainy season in the San Francisco Bay Area. No, the reason I get edgy is that it's time to put together our January issue, which means designating the winners of EM's Editors' Choice Awards. Choosing the best products of the past 12 months is a daunting task; after all, hundreds (perhaps thousands) of music-technology products were released in those months, and we give awards to only around two dozen of them. Furthermore, because our readers (not to mention the manufacturers) take the awards seriously, we know we must choose wisely and well—and it's my job to make sure we do. I don't breathe easy until the selection process is complete and the story is written.
I'm breathing quite nicely now, thank you. All of this year's award winners are clearly worthy, and editors Brian Knave, Mike Levine, Dennis Miller, Gino Robair, David Rubin, and I have written an article that I'm confident you will enjoy. Now I can get back to doing the other parts of my job—at least, until next October. There is, after all, the small matter of helping to create 11 more issues of EM this year, not to mention the five other publications in our growing family of magazines. Which, indirectly, leads me to my next topic.
Almost ten years ago, Classifieds Advertising Manager Robin Boyce-Trubitt had the good sense to hire Mary Cosola to fill a position in her department. A year later, then-editor Bob O'Donnell spirited Mary away from classifieds to fill an editorial assistant opening, an act of piracy that has proven a major boon for the magazine. Mary's move to editorial turned out to be especially beneficial for me because from the beginning we have worked extremely well together.
Over the years, Mary developed her ability to evaluate and improve virtually all aspects of editorial production, in addition to demonstrating considerable talent as a writer, editor, and proofreader. She has also been an excellent organizer and a leader with impressive "people skills." As a result, she earned promotion after promotion, eventually becoming managing editor—arguably the best we have had (and I speak as one who once held that position).
With the growth of EM and its associated publications, the focus of the managing editor position has become increasingly managerial and less editorial. But Mary's preference, first and foremost, is to write and edit. She also wants to devote more time to her family. As a result, she has decided to resign from the staff and pursue the life of a freelance writer and editor. Who will be her first client? We will, of course! Mary will continue to write and edit our monthly "Working Musician" column and Onstage's "Performing Musician" column.
Mary's departure is obviously a big loss for our staff in general and for me in particular. Words cannot sufficiently express my gratitude for her friendship, loyalty, and moral support over the years. She's making a change for excellent reasons, and everyone here is delighted that she will continue to be part of our "extended family." We wish her continued success and happiness.