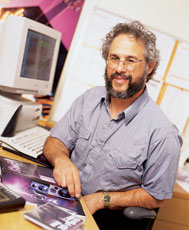 By Steve Oppenheimer
(September 1998)
In July 1540, Spanish explorers led by Francisco Vasquez de Coronado conquered Hawikuh, a Zuni pueblo in present-day New Mexico. Fray Marcos de Niza, who had viewed the pueblo from a distance, had reported it to be "bigger than the city of Mexico." The legend went that Hawikuh was the smallest of seven cities in a region called Cibola, where "women wore strings of gold heads and men girdles of gold. Gold apparently was there for the taking, and Coronado, like most conquistadores, was enthusiastic about taking.
Thus, he set out on what turned into a 600-mile, two-year search, at first for the seven golden cities of Cibola, and later, for the equalIy fabled Gran Quivira. Coronado found no gold, although his expedition did considerably extend the Spaniards' knowledge of southwestern North America. However, because he had found no gold and lost two-thirds of his men, his expedition was deemed a failure.
Nevertheless, with all that – and despite committing numerous atrocities along his route – Coronado went down in history as a great explorer. All of which proves that sometimes you can make heinous mistakes and fail in your quest, yet still achieve something lasting and meaningful – if you are willing to take some chances and work tirelessly.
Like Coronado, musicians sometimes believe the legends about gold to he had for the taking. It's easy to read about the gold gathered by the Pizarros and Corteses of the music business (or the Presleys and McCartneys) and to dream of the hit records we will make if only we can gain access to the necessary tools. The problem, for many years, however, has been the prohibitive expense of outfitting the "expeditions." And although the price of exploration has dropped dramatically over recent years, outfitting an entire personal studio is still costly.
But with the arrival of portable digital studios-integrated hard-disk recorder/mixers that build upon the tradition of the cassette portastudio-would-be musical conquerors on a budget can outfit themselves with a complete rig that sounds practically as good as systems that many of the big "explorers" use. As of this writing, seven models are available (see "Seven Studios of Gold" on p. 32), and if you have the talent and the work ethic and are willing to take a few risks, the right one can help you achieve your dreams of musical success.
Of course, it takes a lot more than great tools to find musical gold. You have to write or interpret a great song, create a sparkling arrangement, deliver a compelling performance, construct a stellar mix, and – if our goal is commercial success – put forth a sterling marketing effort. Without these factors, and a lot of luck to boot, you could easily invest two years in your expedition and still come away with no gold.
Even if you don't find riches, though, many measures of success exist besides commercial achievement or public acclaim. Like Coronado, you can still accomplish something important and lasting. At the least, you can have fun along the way, make fascinating new discoveries, and come away feeling that the whole thing was eminently worthwhile, gold or no gold.