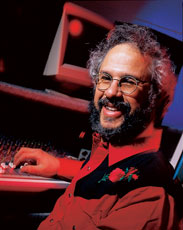 By Steve Oppenheimer
(April 1999)
This year's Winter National Association of Music Merchants (NAMM) show left me with mixed feelings. Although show attendance appeared health enough and Electronic Musician was extremely well received, I returned from the show pondering the lyrics of that classic song "Is That All There Is?"
One reason for my mixed reactions was a lack of compelling new products. I'm not talking about the absence of "breakthrough" products; obviously, the music-technology industry can't be reinvented annually. I'm not even saying that there weren't any cool products; I saw lots of them. But most of them were improved or less expensive versions of existing products. Only a few were truly new.
What's the deal? I think we are witnessing the natural maturation of a high-tech-driven market. To begin with, many new products are software based, which allows developers to quickly release new, improved versions. Software can be tricky stuff, though, so it takes quite a while to develop new high-tech products. As a result, we see upgraded products more quickly than in the past, but all-new stuff takes longer to bake completely.
There's another side to this. We musicians know that a variety of improved—and often less expensive—versions of current products are coming soon. Therefore, we are tempted to wait for the next generation. Sometimes manufacturers invest a lot of labor and money over a long development period, only to discover that customers are playing a waiting game. In such a climate, companies increasingly have to weigh the risks and carefully calculate the right time to move in new directions.
The changing development cycle is not the only reason that truly new goodies were scarce at NAMM. Once upon a time, product releases were timed to coincide with the two NAMM shows and the AES show. Winter NAMM was the primary show for introducing musical instruments and related products. But due to the increasingly international nature of the market and the growing dominance of superstores and large mail-order firms, NAMM is no longer the only major U.S. avenue where MI manufacturers show their new products.
Foreign trade shows are part of the equation; if a product isn't ready for Winter NAMM, it can be shown at the Frankfurt Musik Messe. Furthermore, superstores and mail-order behemoths increasingly preview new products at special private showings instead of waiting for trade shows. And the Web makes information and demo software immediately available on a global scale.
What does all this mean for those who attend NAMM expecting to see the shapes of things? The answer is unclear, but the good news might be that much more is happening than we saw at this show. If so, perhaps NAMM is not the bellweather that it once was.
*******************
I'm very pleased to announce that "What's New" co-authors and copy-editing colleagues Carolyn Engelmann and Rick Weldon have been promoted to the position of assistant editor. Congratulations to both of them!