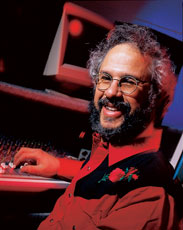 By Steve Oppenheimer
(February 2002)
Under the circumstances, it was remarkable that the 111th Audio Engineering Society convention took place at all. The show was originally scheduled to be held from September 21 to 24, 2001, in New York City, which was made impossible by the terrorist attack on September 11. Many in the audio industry thought the show would be canceled, but he AES decided that the show must go on and rescheduled it for November 30 to December 3 at the original venue. It proved to be a good decision.
However, the new dates meant that the AES convention would be held just six weeks before the larger Winter NAMM show in Anaheim, California. AES/New York is an expensive show at which to exhibit, and with the U.S. economy in recession, a number of companies decided to save money by skipping the AES show and waiting for NAMM.
Some industry veterans sharply criticized the companies that canceled, stating that everyone should have supported the show, the industry, and the city of New York. Because of the circumstances, emotions were high, and some companies that bailed out apparently felt compelled to explain their decision. A few offered weak rationalizations, which was unfortunate, because it was clear that the primary issue was money—which is a legitimate reason to pass on a trade show.
For companies that mostly sell into the MI market and those that weren't ready to unveil new products at AES, skipping AES to save their efforts for NAMM was understandable. For companies that were struggling financially, spending money on a trade show that was not a dealer show might be irresponsible.
On the other hand, some companies may have missed a good opportunity. Yamaha unveiled its new $20,000 DM2000 digital console at the InterBEE 2001 broadcast show the previous month in Japan. The AES show would seem to have been a perfect place to introduce the DM2000 to the U.S. pro-audio market.
The greatest public condemnation was reserved for Digidesign, which not only is a major player in the audio market but provides affordable booth space for dozens of development partners, many of which cannot otherwise afford to exhibit at large shows. Its absence, therefore, left many small companies out in the cold. Were I a development partner, I suspect I would not be pleased.
But if Digidesign failed its partners in some way, that is the only legitimate grounds for criticism of the company's decision to cancel. No company owes it to the audio industry to support the show, and Digidesign doesn't owe anyone but its partners an explanation of what amounts to a private business decision.
No-shows notwithstanding, the AES show was a solid success. True, the show was smaller than planned, but it was well attended (especially the first couple of days), and spirits were high. Exhibitors and show attendees seemed happy just to be together in New York, with their businesses and lives mostly intact. Everyone seemed determined to move our industry forward. We saw a number of interesting new products, although few of them introduced new ideas. As for the companies that bailed out, hopefully we will see their products and technologies at NAMM.